Ace K Artificial Sweetner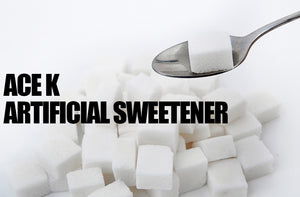 Is your sweetener killing you? There are many studies and debates over artificial sweeteners, but how much do we really know?
Acesulfame potassium (
Ace
-
K
) is an artificial sweetener used in place of sugar in foods, beverages, candy and chewing gum. The FDA has reported it  to be "safe".
Ace
-
K
sweetener is a calorie-free sweetener that is about 200 times sweeter than regular old table sugar. Since less can be used, 
Ace
-
K
is cheaper for manufacturers. Plus, the allure of a calorie-free sweetener always sounds great for dieters.
According to The Coca Cola Company,
Ace
-
K
was discovered in 1967. It was first approved by the FDA in 1988.
The FDA has established the average daily intake for
ace
-
k
  at 15 mg per kg of body weight.
Is it safe?
Scientist, fitness enthusiasts, reporters, and influencers debate whether artificial sweeteners are harmless once introduced into the human body. The FDA, and other organizations worldwide have researched the safety of
Ace
-
K
and concluded that it is "safe" for consumption. In a study the ingredient was tested on mice, to which The National Institute of Health reported no increased risk of cancer. But how true is this?
You should be able to assume that your supplements are healthy and good for you. After all, that's why you take it, right? Unfortunately, manufacturers often add things into the mix that are… less than beneficial. In fact, these additives can often have surprisingly negative effects on your overall health and well-being.


What's It Doing in There?
When it comes to supplements, 
Ace
-
K
is generally used as a way to enhance the flavor of the product without adding extra calories or carbohydrates.
What's The Problem?
Ace
-
K
was approved mainly based on studies performed on mice. The problem with studies done on small animals, is that the ingredient amounts are nearly impossible to be replicated for most humans to consume.
The biggest red flag here is that this sweetener contains high levels of carcinogen called methylene chloride.
Methylene chloride has been linked to liver and kidney issues. One 2013 study, conducted in mice, was designed specifically to examine the long-term effects of
Ace
-
K
and took place over a 40-week period.
At the end of the trial it was seen that – while
Ace
-
K
did not cause any metabolic problems – it had a powerful negative impact on the cognitive function of the mice. In fact, the study's authors commented that their "data suggest that chronic use of
ACE
-
K
could affect cognitive functions, potentially via altering neuro-metabolic functions."
Individuals who are familiar with the topic worry that the use of sucralose and
ace
-
k
in supplements can cause cancer and bunch of other health risks. 
In the end the choice is yours. 
You, who are interested in bettering your lifestyle and health, need to make your own decision. If you aren't at all a fan of consuming
ace
-
k
no matter how small the amount, then don't use supplements that list it. 
When you order take out, you are consuming foods that likely have ingredients that can be harmful and fly under the radar. 


What You Can Do
Here's the real issue:
Ace
-
K
is in nearly every packaged item found at the local grocery store , including leading brands in the supplement industry. Make sure you know how to read nutrition panels to avoid this potentially dangerous artificial sweetener. If it is difficult to even locate or understand the nutrition panel on certain product, avoid it completely. Companies should be transparent of what sweeteners are being used. Stick to companies that disclose every single ingredient, and proprietary blends are absent.
Additives like this are precisely the reason why Wurx Nutrition works so hard to keep our supplements clean and our ingredients lists transparent.
---
References:
Grotz, V. L. and Munro, I. C. An overview of the safety of sucralose. Regulatory Toxicology and Pharmacology 55(1):1-5, 2009.
Rodero, A.B., et al. "Toxicity of Sucralose in Humans: A Review." International Journal of Morphology 27(1):239-244, 2009.
Baird, I.M., et al. "Repeated Dose Study of Sucralose Tolerance in Human Subjects." Food and Chemical Toxicology 38(Suppl 2):S123-9, 2000.
Brusick, D. "Expert Panel Report on a Study of Splenda in Male Rats." Regulatory Toxicology and Pharmacology 55(1):6-12, 2009.
Sucralose Safety Assessment. Food Chem Toxicol. 38(suppl 2):S1-S129, 2000.
Goldsmith, L. A. Acute and subchronic toxicity of sucralose. Food Chem Toxicol 38(suppl 2):S53-S69, 2003.
O'Brien-Nabors, Lyn. Alternative Sweeteners [Fourth Edition]. Boca Raton, FL: CRC Press, ISBN 978-1-4398-4614-8: pp. 185-186, 2011.
Leave a comment
Comments will be approved before showing up.