Benefits of Lifting Weights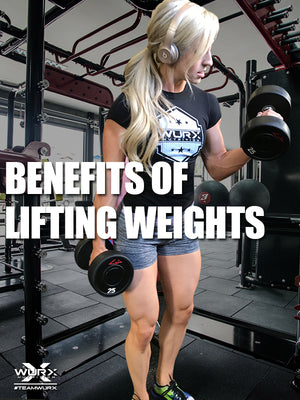 The benefits of weight training go beyond aesthetics. Lifting weights can help you reduce body fat, reduce injury rate, increases strength and so much more. Lifting weights is not all for vanity purposes, but looking good is a great side effect from it.
PREVENTING INJURY

Strength training can help create strong tendons, ligaments and muscles making one less likely to be injured under stress. Having sore knees or achy areas when you wake up in the mornings doesn't necessarily have to be a thing you eventually just get used to. Weight training can help muscles surrounding and supporting your joints by strengthening joint integrity. 
Weight training can also help promote stronger bones, by increasing density in the bone and decreasing the potential of osteoporosis. Lifting weights can also help reduce chronic conditions like obesity, heart disease, diabetes and depression. Lifting heavy weights over time maintains bone density and may help build new stronger bone.
INCREASING STRENGTH

Lifting weights can help you day-to-day tasks like carrying groceries, lifting your kids, and walking up and down stairs. It is important for longevity purposes being physically strong and capable of moving around with heavy loads. Increasing the load is the important part here in order to increase your strength. Check out
Crea Wurx
to naturally start enhancing your strength gains.
BETTER FLEXIBILITY & MOBILTY

Making sure repetitions while you are lifting go through a full range of motion can increase flexibility. Being more flexible reduces the potential of pulling a muscle and helps with balance too. Stronger and flexible muscles can help you improve the way you sit, walk, and move all day; improving balance and stability.
IMPROVING BODY COMPOSITION

Lifting weights can manage your weight loss by helping you boost your metabolism, in turn helping burn more calories and fat. The scale may not move too much while you will lose fat and gain muscle definition. By boosting your metabolism you will see your body getting more toned. When compared with conditioning, because you use your core while weight lifting, you are most likely to burn stubborn belly fat. Remember, spot training isn't effective, but by lifting weights, you will be stimulating your abs almost every time. Lifting heavier over time and help promote more muscle definition. Check out
Wurx Burners
to optimize your fat loss journey.
Weight lifting is known for helping promote muscle growth by building more muscle you will promote thermogenesis throughout the day. This happens because of the amount of lean muscle mass that is being created, while increasing the amount of overall calories burnt in the day.
SHARPEN YOUR MIND

Following a program that incorporates lifting heavy weights can get you really dialed in and focused. Something about having to finish all the sets and all the repetitions gets one really determined. Lifting weights can create a lot of mental strength, this is extremely important to accomplish any sort of goals. This mental toughness translates from the gym to all walks of life. Whether you have a complex task at home, school or at work, tackling stressful situations become easier to practice.
Adapto Wurx
can be a great supplement to reduce cortisol levels, and help get you focused before a tough workout or task.
Positive changes in your body compositions can create positive outcomes overall in your daily tasks. You are motivated and inspired to keep moving forward by managing these tasks in a positive way. Weight training multiple times during the week can help improve learning skills and thinking. If you are focused, you can concentrate on your range of motion. If your form is good, you can increase your load. By increasing your load you can increase your strength. By increasing your strength, you can reduce injury. The cycle of benefits keeps turning.
LOW WEIGHT HIGH REPS VS HIGH WEIGHT LOW REPS

You can get caught up in the conversation of going high rep or low rep. It is actually more beneficial to use both concepts in a smart way to manipulate fat loss and muscle growth. Any repetition scheme is effective to build muscle, burn fat and increase strength. The keys to these separate goals are mainly focused on the contractions, rest periods, and techniques. If you want to stay safe and efficient, the ideal repetition range to transform your body will usually fall within the 8-15 rep schemes.
TIPS WHILE WEIGHT LIFTING

-
Warm Up
: Be sure to warm up at least 5 minutes before lifting any type of weights. Go easy on your first set and work your way up.
-
Breathe:
You have to keep oxygen going while lifting. Not breathing enough or properly can drain you from your energy source. Breathing through nose can help buffer the lactic zone.
-
Keep it Varied
: Weight training alone works well with most people. But by keeping your training strictly the same (only lifting weights) isn't the best thing you can be doing. You can still do weight lifting, but mixing it up or combining it with other types of training can really optimize all the health benefits that lifting weights brings to the table. Combining conditioning can really help develop a strong foundation for whatever goals you may have. 
Weight training can enhance the quality of your life and improve the efficiency of all your day-to-day tasks. Stimulating muscle growth can help reduce injury and the risk of falls. Helping you live a quality life full of movement.
Results may vary. These statements have not been evaluated by the Food and Drug Administration. This product is not intended to diagnose, treat, cure, or prevent any disease.
-Westcott WL. Resistance Training is Medicine. Current Sports Medicine Reports. 2012;11(4):209-216.
- Stoppani, J. (2015). Encyclopedia of Muscle & Strength (2nd ed., p. 14). Champaign, IL: Human Kinetics.
- Maria A. Fiatarone, MD; Elizabeth C. Marks, MS; Nancy D. Ryan, DT; et al High-Intensity Strength Training in Nonagenarians Effects on Skeletal Muscle
- FLECK STEVEN J. Periodized Strength Training: A Critical Review The Journal of Strength & Conditioning Research
Leave a comment
Comments will be approved before showing up.