Amino Wurx - Complete Amino Acids Blend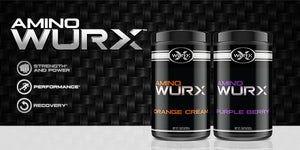 AminoWurx is the complete and ideal blend of amino acids, packed with the most efficacious profile to help aid your fitness journey.
Did you know most leading brands use branched-chain amino acids that come from human hair, bird feathers, or pig skin? AminoWurx is made using Fermented Vegan branched-chain amino acids. This means it's not processed with any toxic materials, and it doesn't come from those disturbing sources.
AminoWurx contains 5 Grams of BCAA's, which is a mix of L-Leucine (2.5 grams), L-Isoleucine (1.25 grams), and L-Valine (1.25 grams).
BCAA's can be used as a source of energy for your muscles. It has also been shown to keep your body in an anabolic state, and help delaying or slowing down muscle fatigue or soreness. The blend of branched amino acids will kick start your recovery, to help your body improve before and after your workout.
AminoWurx provides you with a full essential amino acid profile as well. Essential amino acids help speed up recovery time and reduce muscle soreness. These amino acids are Lysine, Methionine, Phenylalanine, Threonine, and Tryptophan.
In addition we have also added these key amino acid for neuro support, Taurine, N-Acetyl L-Tyrosine, and L-Cysteine, to bring you a complete and ideal amino acid concentration.
2 grams of L-Glutamine supports healthy immune function and muscle recovery from the constant wear and tear to keep you always functioning at your highest level!
Citrulline Malate is also included in AminoWurx to help optimize blood flow. Citrulline can reduce fatigue during and after workouts as well, by delivering nutrients quicker to your muscles. Citrulline malate increases levels of Arginine. Therefore, nitric oxide levels increase to widen blood vessels and deliver nutrients to muscles faster.
Additional Support
Covico™ Packed with 60 mg of coconut potassium per serving, Covico (Coconut Water) is also loaded with vitamins and minerals to help rehydrate your body naturally.
Astragin - Having all these great ingredients in our BCAA wouldn't be much without this key component. We need to be able to absorb nutrients, otherwise we won't be able to produce the proper output during our workouts.
AstraGin™ is a patented blend of Panaxnotoginseng and Astragalus membrenaceus, clinically proven to:
Increase Amino Acid absorption by 41%

Increase Leucine absorption by 58%

Increase Citrulline absorption by 45%

 [1]
Why take AminoWurx?
Improves endurance*
Enhances performance*
Stimulant Free*
Speed up Recovery*
Build Lean Muscle*
AminoWurx goes beyond your average dosed amino acid blend. Whether you are trying to lose weight, build muscle, or an athlete going through hours of vigorous workouts, AminoWurx is here to help you accomplish your goals. Allowing you to burn more fat, build more muscle, and improve your athletic performance. Getting the proper nutrients is key, and your next step to accomplishing your health and fitness goals.
Article Sources
1. AstraGin® – Nuliv Science, nulivscience.com/astragin/.
Leave a comment
Comments will be approved before showing up.